Why we like this mini hydrogen machine
Very Portable can even use in your car and comes with a socket for the car.
Very Robustly made, we watched the safety drop tests on this model, and we are very impressed.
Produces 120ml per minute of molecular hydrogen.
Titanium plates and DuPont platinum SPE coated membranes.
SPE/PEM technology.
Only Uses distilled water to make H2, no chemicals needed
3000-5000 hours expected life span.
Can make Hydrogen Rich water, Comes with a high-quality diffusion stone.
Comes with 1 breathing canula extra cannula are £5.00 each, if you clean the canula with an alcohol wipe, a cannula can last many months.
Comes with 2 water filters, one filter will last between 6 to 12 months, replacement filters are £5.00 each
Warranty
1-year parts and labour warranty, if any issue comes up, send it back to us to our home office address in Torquay UK and we will fix it or send you a replacement.
It is very important to only use distilled water in the machine, if you use any other water in the machine this will damage the internal titanium  plates.
After one year if any issues comes up and it is a straightforward part needs changing , we will charge  you retail price of the part and or hourly rate at £25 per hour.
If you look after your machine well, and replace the distilled water roughly every 4 months, only use distilled water when filling it up and if storing the machine you keep the distilled water in it, this machine will last 3000 to 5000 hours of use.
What Type
of

Water Do You Put into The H2 Machine

It is very important which type of water you put into your machine. If you use tape water or mineral water, you will damage the electrode plates in the machine.  The only water to use is distilled water, best still is double distilled water the cleaner the water the longer your machine will last. With this machine you only need a very small amount of distilled water 500ml, and every 2 to 4 weeks you will need to top it up slightly.
Where Can I Get Distilled Water 
From?
We do not supply the distilled water for our Hydrogen machine, yet you can cheaply and easily get it from either buydistilledwater.co.uk or Bobby's Health Shop, here is the links below
Or from Bobby's Health Shop, by clicking this link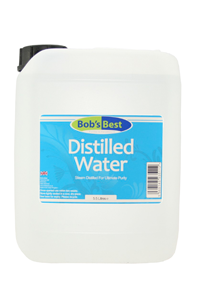 Or if you would like to make your own distilled water here is a link for a water distiller from Amazon …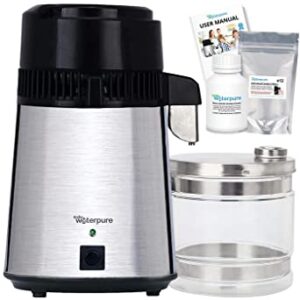 For our Mini Hydrogen machine, you only need 500 ml of distilled water to fill it up, and then roughly every 3 to 4 weeks you will see on the water level on the back of the machine that it will need topping up slightly.
The machine will tell you if the water quality needs changing at any point. If it does need changing, simply pour out the water in the machine and replace with distilled water.
If you buy 5 liters of distilled water that is estimated to last, you about 12 months